Design und Betrieb / Design and Operation
Layout design according to theatre principles: Flemming Ørneholm
Details

Kategorie: Design und Betrieb
Zuletzt aktualisiert: Samstag, 19. Dezember 2009 12:51
Geschrieben von Michael Homberg
One Layout, with 6 stage settings: 
Railroad model layout design according to theatre principles: Flemming Ørneholm 
While beeing on a railfan trip, Carsten S. Ludsten and I were invited to Flemming Ørneholm's layout in Copenhagen, Denmark: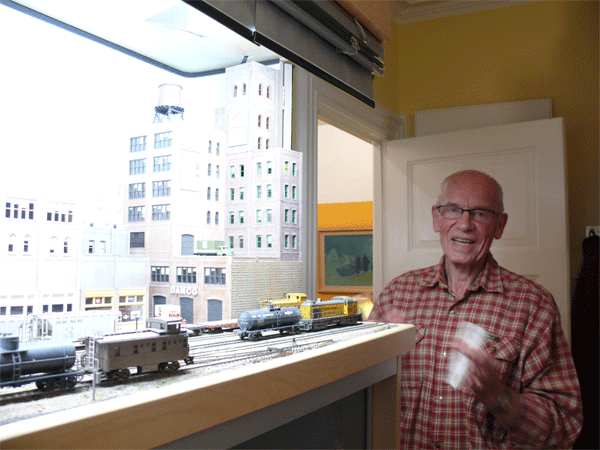 He welcomed us and smiled while he showed us his present layout.
Maybe you have read about Flemming's former HO layouts? He published some articles in the American Model Railroader.
And an article about this new layout has just been sent to Model Railroader and will probably been published soon, too.
To avoid a conflict with the article do come, I will only give you some ideas what he did now: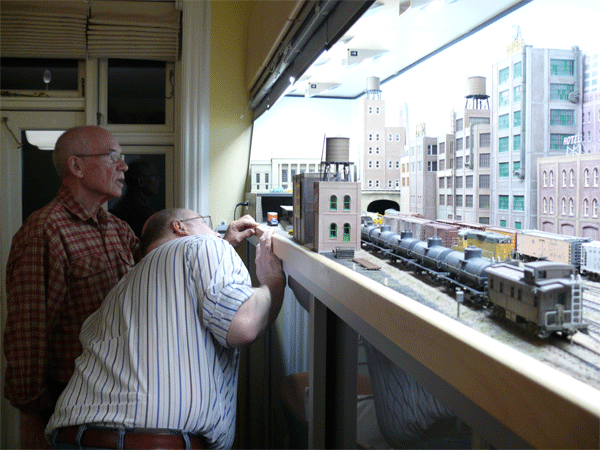 Carsten and Flemming are inspecting details at the staging and fiddle yard.
Yes! It looks different to the typical plywood districts, doesn't it?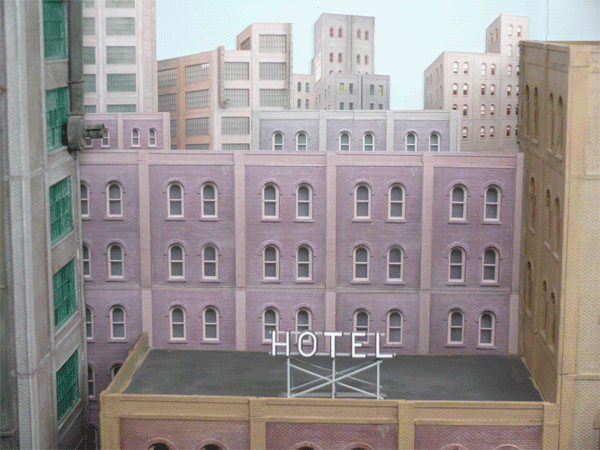 Does this look great? Yes. And how did he build this town? This is a secret until the article has been published.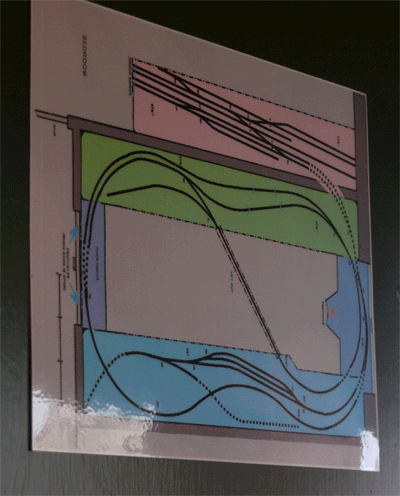 On the track plan you see 5 different background colors.
These 5 areas are different "stage settings". "Stage setting", the term of theatre?
Yes. Flemming built his layout according to theatre principles. Each stage has its own setting, its own theme. You cannot see two stages at the same time (yes, you can, if you are standing in front of the room. But no one will do that. If you are there, you want to see it as close as possible. Therefore, you will be at one stage setting at a time).
Each stage is framed. It is lightened with light to see, and additional light effects. Flemming showed us the differences by switching the spotlights on and off. Yes: one sees the difference.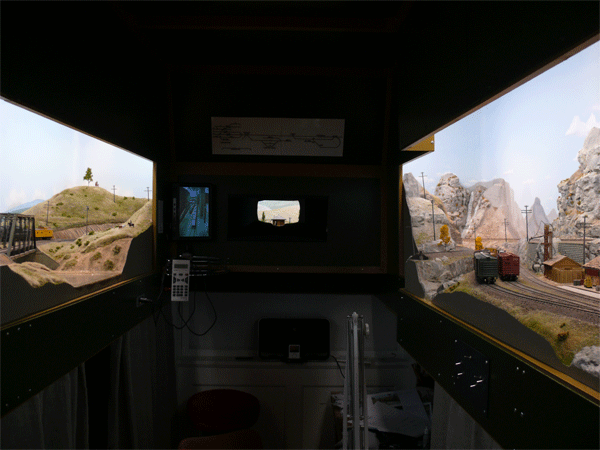 No one would be standing where I made this photo. But I want to show you the "stage settings" green on the left, dark blue in the middle, and light blue on the right (for colors see track plan above). You really have to move "in" the frame to see what is happening at dark blue. Flemming shaped a visitors mask for this, a tool like the radar engineers used to use to have a good look at low light.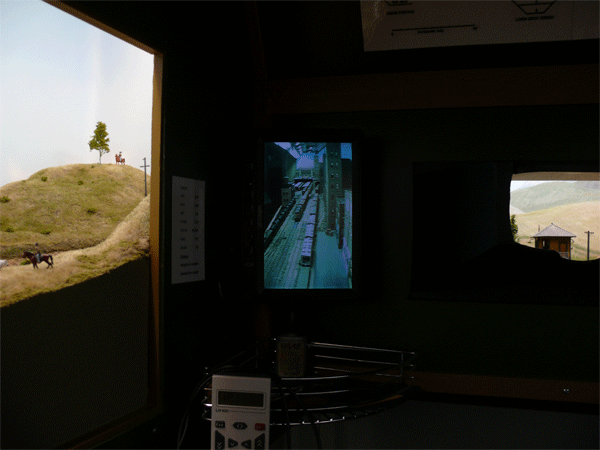 The green stage is on the left, dark blue on the right, and the thing which looks like a TV is: the monitor of the staging yard, which is in the room nearby. You will use this tool if you want an actor to enter the stage.
Flemming told us that the idea of a model railroad being a theatre play was first published by Frank Ellison (1887-1964) in the late 1940s and early 1950s.
Flemming added the elements of theatre stages settings. He has 6 of them in one layout (the pink element at the entrance has two stages: both are small, and both have big impact).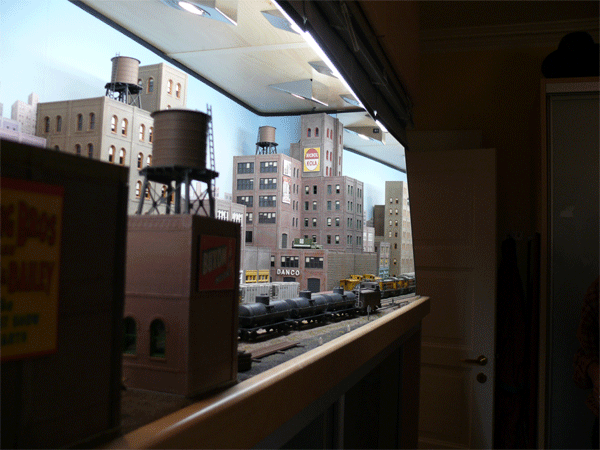 to give you an impression with the right lightning: this is a part of the red stage setting.
Below the light blue stage...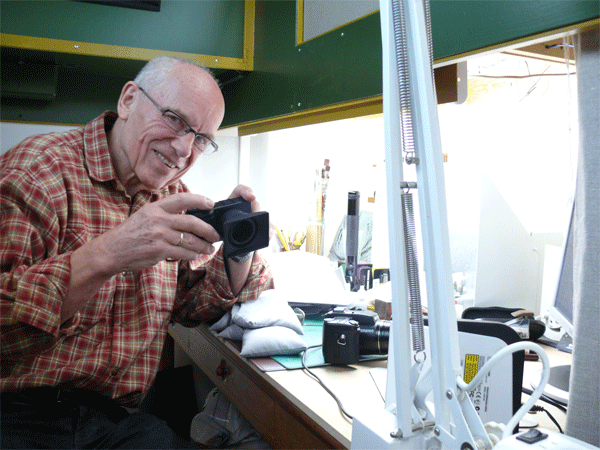 Flemming has his workbench.
And there is another "invention" of Flemming: the three sandbags he uses as tripod for his camera: by this he can take photos anywhere on his layout, for example at track level.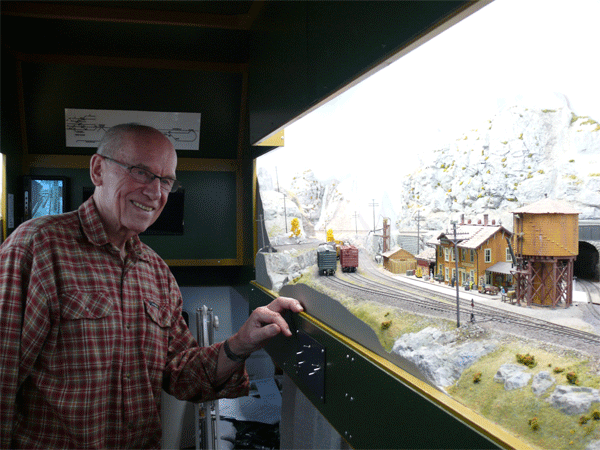 Flemming, thank you for sharing your ideas!
---
Please note: this is a part of the page "Railfan trip to København and BLDX, Denmark, November 02 - 04, 2009"